The Directorate General of Vocational Training (Dirección General de Formación) is the Regional Government Agency responsible for Vocational Training for Employment in the Community of Madrid.
Depends on the Department of Economy,Treasury and Employment within its organizational structure is placed a network of Vocational Training Centers for Employment, made up of five training centers specialized in different areas and whose mission is to improve the professional skills of workers and students through specialized training, custom actions and active support in finding employment. To this goal, these VET Centers are specialized in sectors and areas such as information and communication technologies, administration, insurance and finance, construction, refrigeration and air conditioning,electricity, electronics and aerospace technology, and all of them manage training courses for unemployed people directly running more than 6.000 students per year.
These training centers contribute to the improvement of the national system of vocational training through research, certification and permanent update and all of them are National Reference Centers for Vocational Training in their respective sectors.
The RE-MAIN project is led by the Training Centre for Electricity, Electronics and Aeronautics. We are also a National Reference Centre in Electromechanical Devices. The centre is located in Leganés, a municipality in the southwest of Madrid. We give courses aimed primarily at the unemployed to obtain Certificates of Professionalism or Training Diplomas in different Professional Families. We provide training in Automation, Welding, Electricity, Domotics, etc.and we are also a reference in the aeronautical sector in Madrid. All our courses and certifications are free for our students. We have signed agreements with Siemens as well as with the AIRBUS GROUP in order to collaborate in the implementation, promotion and coordination of training and technical activities in the CRN Leganés aimed at the modernisation and specialisation of the aeronautical sector in the Community of Madrid.
At FH CAMPUS 02, about 1,300 future academic specialists and managers for business are currently studying in 5 subject areas: Automation Technology, IT & Business Informatics, Innovation Management, Financial Accounting & Controlling and Marketing & Sales.
The technical and business degree programmes, which include 8 Bachelor's and 6 Master's degree programmes in part-time and full-time or dual form, focus on the core areas of entrepreneurial success.
The three interdisciplinary technical degree programmes are Automation Technology, as a guarantor of technical progress in product development and manufacturing, IT & Business Informatics, for optimising knowledge management, business processes and communication, as well as Innovation Management, a combination of management and technology.
Automation and digitalisation are the success factors in business. Therefore, the demand for academic professionals in these fields is extremely high. As FH CAMPUS 02 always focuses on the needs and benefits for business, the range of courses on offer has been expanded in the winter semester of 2021 to include the Bachelor's degree programme Smart Automation. One focus of the latest degree programme is digitalisation, which is why the professional focus is on computer science and electronics in the context of automation.
Internationalisation also plays an important role. Therefore, the language of instruction of the degree programme is English. Electives allow for additional specialisation in three different directions: Product, Process or Production.
In addition to the academic teaching staff, numerous lecturers from industry ensure that the degree programme has a practical orientation. Around 300 specialists and managers work as lecturers at FH CAMPUS 02, ensuring that specialist knowledge is combined with practical experience and case studies to promote the entrepreneurial spirit even during the course. Many companies are partners in projects that students work on during their studies and in their final theses. 
FH CAMPUS 02 has excellent networks with universities throughout Europe and is also part of international exchange programmes such as CEEPUS, ERASMUS+ and other academic networks as well as many industry clusters.
Established in 1951, ENAIP Veneto is a social enterprise operating in the vocational education and training field. Providing its services to about 4.500 pupils and 2.200 adults every year, it is one of the main organizations operating in the VET sector in Italy, both at a regional and national level.
With its 18 training centres and 320 permanent employees (+ 530 external collaborators), ENAIP Veneto's mission is to enhance professional development and social integration through work, the growth of local economies and labour organizations.
Together with ENAIP Piemonte, ENAIP Lombardia, ENAIP Friuli Venezia Giulia and ENAIP Emilia Romagna, ENAIP Veneto is also part of ENAIP NET, a consortium dealing with the development of national and transnational cooperation, innovation, research and improvement of good practices in the vocational training sector. Within this network, ENAIP VENETO is in charge of the International Development Area. ENAIP Veneto is also involved in the international community by working in strict collaboration with EVTA (European Vocational Education and Training Association), EVBB (Europäische Verband Beruflicher Bildungsträger) and EfVET (European Forum for Vocational Education & Training).
Since 2017, it is also member of ALDA (European Association for Local Democracy), whose main aim is to promote good governance and citizen participation at a local level in Europe and its neighbouring areas. ENAIP Veneto actively participates to the initiatives and activities carried out by the LLLP (Lifelong Learning Platform) and the EAfA (European Alliance for Apprenticeship).
At a regional level, ENAIP Veneto collaborates in the development and management of projects that aim at requalifying and integrating adults in disadvantaged socio-economic situations. In these kinds of initiatives, which are mainly thought for people that have been unemployed for a long time, the addressees are guided through a complete training process.
This includes both individual and group activities in order to support the development and use of personal and professional skills. By doing so, job opportunities that are coherent with individual expectations and with the territorial potential can be easily identified. Because of its long experience and consolidated practice in this training sector, Enaip's staff can properly and efficiently relate to adults that present these special needs, both in terms of soft and social skills.
General activities and experience ENAIP Veneto operates in the following fields, on the national and international level: VOCATIONAL EDUCATION AND TRAINING • iVET (initial VET, EQF level 3 and 4) • cVET (continuous VET, EQF level 3) • lifelong training for companies • dual system / apprenticeship EMPLOYMENT SERVICES • tailor made training • Career guidance • job placement • skills analysis and certification INNOVATION AND DEVELOPMENT • research and surveys • international cooperation • technical assistance • training programs start up and improvement.
Munster Technological University is an Irish multi-campus technological university, contributing to the region through the provision of academic programmes that support student development and opportunities, education and research.
MTU has an extensive and impressive regional footprint with six campuses across the South-West region in Cork and Kerry, and a student body of 18,000. The MTU Bishopstown Campus is the main Cork Campus and offers courses in business, science, computer science, engineering, media communications, and humanities. Also located here are student services, administration, research centres, and industry support centres.
Festo is a global player and an independent family-owned company with headquarters in Esslingen am Neckar, Germany.
Festo has set standards in industrial automation technology and technical education ever since its establishment, thereby making a contribution to sustainable development of the environment, the economy and society.  The company supplies pneumatic and electrical automation technology to 300,000 customers of factory and process automation in over 35 industries.
The LifeTech sector with medical technology and laboratory automation is becoming increasingly important. The products and services are available in 176 countries. With about 20,700 employees in over 250 branch offices in 61 countries worldwide, Festo achieved a turnover of around €3.36 billion in 2021.
Each year around 7% of this turnover is invested in research and development. In this learning company, 1.5 % of turnover is invested in basic and further training. Festo Didactic SE is a leading provider of technical education and training and offers its customers worldwide comprehensive digital and physical learning solutions in the industrial environment.
For any questions about this project financed by the European Union, do not hesitate to contact us.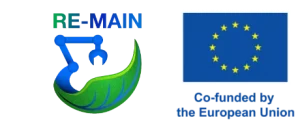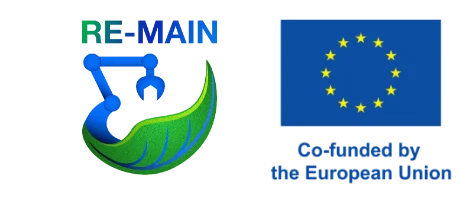 Remain is co-funded by the Erasmus+ Programme of the European Union..
The views expressed in the working papers, deliverables and reports are those of the project consortium partners. These views have not been adopted or approved by the Commission and should not be relied upon as a statement of the Commission's or its services' views.
The European Commission does not guarantee the accuracy of the data included in the working papers and reports, nor does it accept responsibility for any use made thereof.